In Memory of Steve
On 19th December 2016, we lost another of our members to illness. Our pricipal euphonium player, Steve Taylor, sadly passed away following a battle with cancer. Steve was an integral member of the band, having been with the band since moving to the area. Steve was a great servant to the band over the years, as a fine euphonium player, a conductor ready to stand in at short notice when needed and as a committee member for many years.
Phoenix played at Steve's funeral in January and such was his esteem in the banding community, we ended up having to turn down invites from people to play as there would not have been room to accommodate everyone.
Everyone at Phoenix misses Steve and our thoughts have been with his Jean and his family as they come to terms with their loss.
*** Update ***
The collection from Steve's funeral and further fund raising at an accountants seminar have rasied a whopping £3,600 which is to be gifted to Cancer Research UK and Macmillan Nurses in Steve's memory. Thanks to all that donated and were involved in this fundraising, all the money will be put to very good use by these two wonderful charities.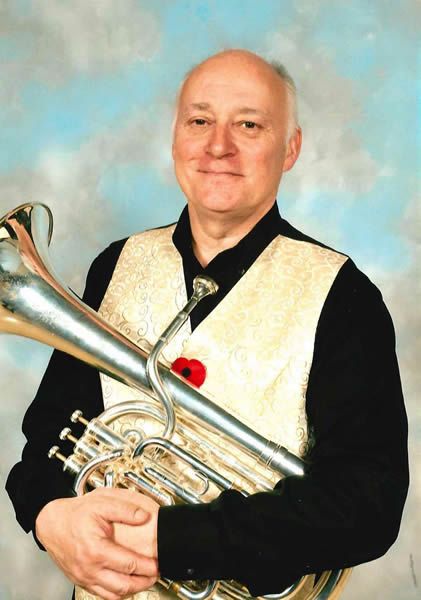 Steve playing baritone with Phoenix
A Little Background
Steve's Dad, Dennis, has written this short biography about Steve before he moved to Taunton which we want to share with you ...
Steve was born on April 4th 1952 in our home in Staines, Middlesex.
We moved away from Staines in 1953 as my wife and I became Salvation Army Officers and our first appointment was Mosborough, Derbyshire.
We resigned and I became a Music Teacher in 1960 and it was here in Stamford that Steve commenced learning to play the cornet. He made good progress and in 1964 at the age of twelve he entered a solo competition in Worcester because I was now teaching in Worcestershire.
Steve had passed his eleven plus examination before we eft Stamford and we found a place for him at King Charles Grammar School, Kidderminster. He was a very active member of the music department.
Also at this time I was the MD of Shirley Band and Steve came along and played 2nd Cornet.
In 1965 I became the Bandmaster of Dudley Salvation Army Band and Steve took his place on the Solo Cornet bench, but in 1968 I travelled south to a new teaching post in Harlow Essex.
We attended to S.A. at Woodgreen where Steve took his place in the band but had now changed to Euphonium and took his place as second man down to Bernard Footitt. I was the Bandmaster at this time. In 1972 the band were asked to go to Finland for a tour and Steve took his place and was on the programme as a Euphonium soloist.
I left Woodgreen to take up a new teaching post so from then on Steve went his own way so to speak.
He remained at Woodgreen and in the early 90s became Bandmaster of Woodgreen Band.
Then in the late 90s Steve and his family moved to Hendon where he took his place in the band on 1st Baritone and there he remained until the early 2000 then moving to Taunton.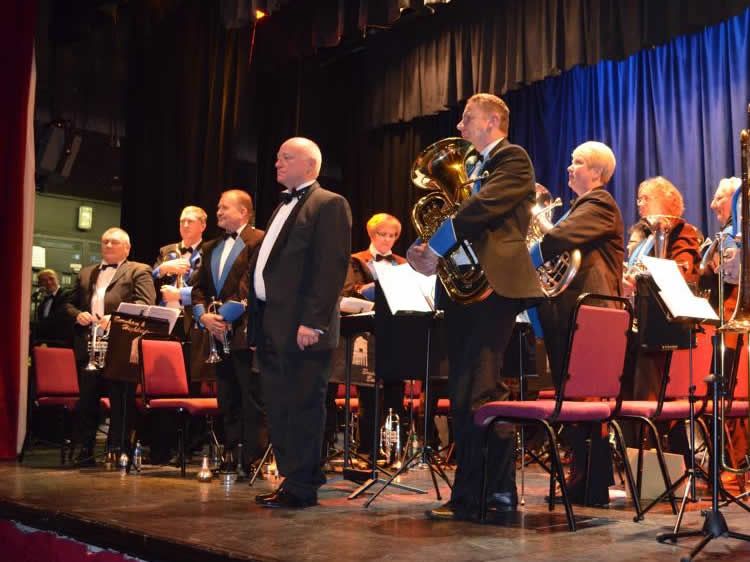 Steve Taylor during his time as MD to Burnham and Highbridge Brass Band
Steve and Phoenix
When Steve got settled in Somerset, he looked to see what Bands were around and decided to give Dave Coles a call to see if there were any vacancies at Phoenix Brass. He explained that he was a Euph player but in his last band played 1st Baritone. When Dave enquired who his last band was, Steve said "Hendon Salvation Army". Hendon being one of the finest SA Bands in the world, which included the Cobb Family and David Daws ( wow! ). Dave agreed to pick Steve up at his home and take him to the next rehearsal. Steve of-course was an instant hit with the rest of the band members and slotted in on 1st Baritone perfectly.
After a period of time he became Bandmaster and assisted the MD in preparing the band, expanding his musical talent. But when a conducting vacancy came up at West Somerset Brass, Steve decided that he would need to devote all his time to this post, and reluctantly left Phoenix. He made great strides with West Somerset but returned to Phoenix after a couple of years and played Solo Euphonium and was also the Bandmaster again.
Steve's performances at Concerts & Contest were a joy to hear. Steve was always ready to help anybody, and when our neighbours at Burnham & Highbridge lost their Conductor ( David Fisher ), who sadly passed away after a long illness, Steve was asked if he could Conduct the Band, to help them get through this very difficult period which included many Christmas Concerts etc, and of-course, he said he would be happy to help.
For the 2015 Regionals Steve asked his long-term friend Stephen Cobb if he would be able to come down to Somerset and put us through our paces, as the test piece was commissioned by Stephen Cobb for a forthcoming tour to Australia with the ISB, so knew the piece very well, in fact had only just recently re-recorded it. In the middle of 2015 his health problems started and by the end of 2015, had to have a major operation due to Cancer, so would be out of action for several months, potentially missing the regionals in March. But true to form, was back playing with the Band by the middle of January 2016 and even played at Roger Newton's funeral.
The regionals in March were the next big outing for everybody within the band and for Steve another chance to shine and, shine he did, with the Band being crowned the 2016 3rd Section Champions. But again around June time, Steve realised that his cancer had returned and he need to get it sorted ASAP. His focus throughout his illness was always to be at the next gig, playing Euph or by now as he couldn't manage blowing, volunteered himself on to Percussion and was making a great job of it too.
Once a musician, always a musician.
Exmouth was his next goal 3rd September. His health in the run up to the Contest was not good. At this Contest you have time slots and we were due on stage at 18.15. At 18.00hrs, Steve arrived to take his place on stage with his Partner Jean (later his wife) in the wings (as a comfort blanket) just in case he felt unwell. This lifted the band so much in our performance to see the "Full Team "performing. It took a lot out of him and Jean drove him home again straight after our performance.
Steves next goal was the National Finals two week later. This would be the big one for him, as we all need to be in Cheltenham very early in the morning as we didn't know what time we would be playing. An early draw is what Steve wanted, so he could play and go home again. As it turned out, we played late afternoon, which made it a very long day indeed, but he was determined to play, and play he did within the Percussion Team. The Bands next performance was at Roger Newton's Memorial Concert 25th November.
By this time Steve was hoping to take part but realised that this was going to be a step too far, so opted to being in the audience instead as his next challenge. As it turned out Steve did make the Concert and at the end of the Concert wished the Band well for the future and was said that he hoped to be playing or hitting something at the regionals March 2017. Sadly this was the last time he would see the band all together and passed away 19th December.
Steve was a true musician and always put the needs of the band first.
He will be sadly missed within the Banding World and at Phoenix, but we have a memento of Steve time with the band hanging on the wall along with so fantastic memories and of-course music written or arranged by Dennis Taylor, who is a true friend of Phoenix Brass (Crewkerne)
In Our Thoughts
Here is just a small selection of the comments we received from fellow friends and bandsmen when they heard the news.
I am so very sorry to hear this news. Steve's daughter was at our carol service last evening and we talked about him and his health - she seemed aware that the end was near for Steve very soon.

Steve and I have known one another since we were young teenagers and have remained friends through the intervening years. Please pass on my condolences to Jean and let her know that Steve was remembered at Hendon yesterday in our prayers - and will continue to be upheld in this way by many this week. If there is any practical way I might be able to help /support, please let me know - if I can help I will. Thank you for keeping me updated during Steve's period of ill health - much appreciated.

Dr Stephen Cobb – MD of the International Staff Band
That's such very sad news about Steve Taylor. He came across as a very dedicated and loyal bandsman, as was proven by his move to percussion when the euphonium was too much for him to cope with. If there is some way you can convey my sympathy and condolences to his family I'd be much obliged. Of course there will no problem in making the change of rehearsal dates. I now have visits to you in my diary for January 17th and February 21st. It's unfortunate that 2016 has brought such mixed emotions for the band. Let's hope that 2017 brings nothing but success and good health for everyone!

Nigel Seaman – Conductor & Music Adviser to the Cory Band
A dark sad day for the band.... I don't quite know what to say. It was wonderful that Steve performed at Nationals, a very proud day for the band.

Dan Ellis – Bass Trombone PBC
I don't really know what to say, but thanks for keeping me in the loop. What a loss to the band, the world of music and of course friends and family. I would be honoured to be included in the band for his funeral if there is a space for me.

David Bell – Trombone - PBC
That's desperately sad news. And I feel so sad for Dennis – no parent should have to go through that. Please accept my condolences which are passed to all of Steve's Family & all at Phoenix Brass.

Trevor Caffull – MD Salvation Army Trading Company Ltd
I am so sorry to hear about Steve, I will pass the sad news on to West Somerset. Colin and I thought a lot of Steve and would like to know funeral arrangements etc once they are available. Our thoughts are with you all.

Claire & Colin Whitworth – Cornet & Bb Bass – West Somerset Brass
Such a sad loss. He made me feel very welcome at my first rehearsal and we always had good banter. Will miss him and that big Euph sound. Condolences and prayers to Jean and family.

Martin Stokes – Solo Trombone – PBC
Thanks for including us on your email. Very surprised and sorry to learn that Steve has passed away. I knew that he was poorly earlier in the year, but hadn't realised it was that serious. We had some aspects of our past lives in common with Steve, having spent many years in the SA and could always find something or someone to talk about. Another sad loss for the band! Hope that 2017 is a better year.

Unfortunately I won't be able to make it to the funeral, make sure Steve gets a good send off.

Colin & Myra Gardiner – Bb Bass & Percussion – Ex PBC
That is indeed very sad news. I only knew him for the short time when he came to Burnham but I was very impressed with Steve's musicianship.

Ken Henton – Eb Bass – Secretary Burnham & Highbridge
Oh, My how terribly sad! He was such a lovely man. Please, yes, represent us, and let them know how highly we thought of him. Wow I'm shocked.

Emma Lowe – Horn - Burnham & Highbridge
Released On 21st Feb 2017
Like this article? Share it with your friends