RIP Roger
It is with much regret and sadness that Phoenix Brass ( Crewkerne ) announce the passing of Roger Newton. Roger was the kindest man you could wish to meet. He had a very dry sense of humour and was loved by everyone.
He loved growing Fruit & Vegetables and would bring some of his produce to band, which went down very well. Trains were his passion, and he has been all over Europe either with his Wife Lynn or with his Best Mate John Cane, who also plays Bass and is Chairman of Chard Concert Band. John & Roger would get up at stupid o'clock just to have a ride on " Important " Train, of which kept them happy and out of trouble!
We only wish that could have continued, but Roger has been taken away from us all, far too early.
He was also a keen Tottenham Hotspur Supporter, so just like band contesting, he was used to not winning!. But above all, Roger was a Family man and loved looking after and playing with his Grandchildren along with Lynn in their fantastic garden.
It was nice to hear and see Roger laugh, and on Jethro's latest DVD, which was recorded in The Octagon Yeovil in July 2015, where he was in the audience with his Son Paul, there are two lovely shots of just Rogers face laughing his head off. Priceless.
He wasn't the best computer minded genius but he did receive and send out emails, which was a massive step for Roger. He liked a pint of Real Ale, so we at Phoenix Brass are going ahead with our next rehearsal on Tuesday as Roger would have wanted I am sure, and we will finish early, so we can all go to the pub and Celebrate the Life of a MAN that we are all proud to have known and will miss terribly.
And just to confirm how much he will be missed, below are just a sample of some comments from Bandsmen & women who have been involved with Roger / Phoenix just after the very sad news broke.
R.I.P. Roger – A true Gent.
Funeral Arrangements
The funeral will be held at 12.00 on Tuesday 26th January at St Mary's Church in Chard (TA20 2HJ).
Phoenix will be playing at the service but should any banding friends wish to support the band and play with us you'd be very welcome. Please contact Dave Coles on 0773 908 8189, 01823 413713 or email dave.n.coles@openreach.co.uk.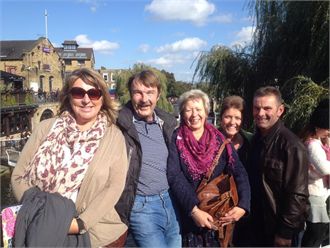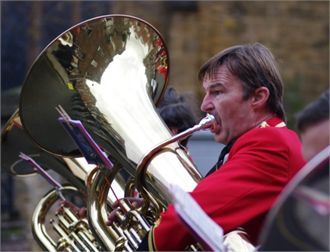 ---
Sam Hairsine
I'm really sorry to hear about Roger - although I only spent a short time with Phoenix I feel very fortunate to have known him. He really was one of the nicest guys I've had the privilege to have met. Please pass on my condolences to his family, and the banding family too. Sam.
Brian Kelloway
Very sad news. Roger was a wonderful man, always kind and he will be missed by us all.
Today is a sad day. Brian
Mary Lewis
I am shocked and very saddened to hear this news. Roger was such a lovely man, he was always so welcoming when I was in the band. I know he will be missed by so many. Mary xx
Simon Carr
Very saddened to hear the news of Roger's passing. He was a very much loved member of our banding community and will be missed. Thoughts will be with Phoenix friends and Roger's family.
Bratton Silver will play a hymn in his memory at rehearsal tomorrow evening. Best regards, Simon.
Colin & Myra Gardiner
I've just been sitting here, staring at my computer, not really being able to take in what I have just read. A complete shock!
We will be thinking of the band on Tuesday evening; it's not going to be an easy practice!
Kind regards Colin & Myra
David Hayward
I am so sorry to hear this. I totally agree with your sentiments about Roger.
Best wishes. David
Released On 11th Jan 2016
Like this article? Share it with your friends